Oracle Business Intelligence Applications (OBIA) is a set of comprehensive pre-built solutions built on top of the Oracle Business Intelligence platform. The solutions allow organizations to rapidly deploy business intelligence throughout an organization without the traditional cost and time associated with defining, designing and developing a custom data warehouse, ETL, metadata, reports and dashboards.
Oracle Endeca Information Compatibility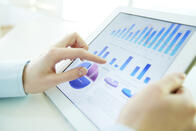 Oracle's updated OBIA release, OBIA 11.1.1.8.1, allows users to respond to business requirements with new Oracle Endeca Information Discovery (OEID) compatibility. OEID is an enterprise discovery platform designed for the analysis of information from both structured and unstructured sources. The purpose built data discovery platform provides users with the ability to visualize data in many different ways, including tag clouds.
The power of the integration leverages lies in the OEID platform's ability to analyze unstructured data. OEID includes ODI maps that can be run to load into Endeca applications, covers more than 100 OBIA subject areas, and grants some OBIA access to unstructured text fields from source systems. This enables users to examine their structured BI data in new ways. See a complete list of new OBIA 11.1.1.8.1 updates below.
What are the latest and greatest OBIA features?
This new release of OBIA 11g adds:
Prebuilt Connector for Oracle Procurement and Spend Analytics with Oracle JD Edwards
Expanded functional content coverage across existing OBIA
New utilities and enhancements to increase productivity and further drive down Total Cost of Ownership (TCO)
Prebuilt Connector for BI Applications
Oracle Procurement and Spend Analytics introduces a new adapter that provides out-of-box integration betweenOracle Procurement and Spend Analytics and Oracle's JD Edwards EnterpriseOne, enabling purchasing and sourcing organizations quickly identify savings opportunities and improve operational performance through decision-ready, best practice analytics.
Content Enhancements: Significant expansion of content improves existing OBIA including:
Oracle Human Resources Analytics expands analysis on HR programs and workforce performance with the introduction of Talent Management Analysis, to help HR and business managers assess talent strengths and build potential leaders by delivering greater insight into job profiles. Improvements to Absence Management, new support for Workforce Frozen Snapshots and Workforce Flex Fields are also available.
Oracle Financial Analytics improves company Financial Performance with the new Subledger Accounting Module, providing complete account balance analysis, including supporting reference balances and drill down to accounting transactions. Aging Snapshot restoration for Receivables and Payables, drilldown from Payables to Purchase Orders, and Fixed Assets support for GL Posting Status are features also included in the release.
Oracle Project Analytics expands insight into project-based data with new Earned Value Management Analysis, providing visibility for Project Stakeholders into Planned Value, Earned Value, and Actual Cost. Analysis of variances and indices, derived from Cost and Schedule Variance, CPI, TCPI, SPI and TSPI, is also available.
Oracle Supply Chain & Order Management Analytics introduces Costing and Inventory Turn support for Oracle JDE EnterpriseOne. In addition, the ability to save and restore the Inventory Snapshot when executing a full load is now supported.
Oracle Student Information Analytics introduces new Financial Aid Analysis, containing term-based detail information associated with a student award such as amount, status, disbursement, and aid type.
Oracle Manufacturing Analytics and Enterprise Asset Management Analytics have been re-introduced into the BI Applications data model. Although new with ODI, both modules provide now the same broad functionality available with BI Applications 7.9.6.4
Unstructured Data for Information Discovery - The BI Applications Data Model has been extended to include unstructured CRM and ERP text fields. Sample Information Discovery templates - including ODI interfaces and runtime security definitions - provide the ability to quickly create sample Information Discovery Applications from combined structured and unstructured data.
Utilities and Enhancements to increase productivity and drive down TCO
New Data Lineage Tool allows customers and implementers to track lineage from source to target - improving information transparency across their enterprise
Configuration Management expands System Setup and Load Plan definition capabilities, including the registration of multiple instances for the same Product Line Version, UI enhancements to support DW connection configuration and Load Plan definition, and Load Plan definition migration.
Fact Partitioning IKMs and Parallel Index Builds are key performance Innovations introduced with this release. The former enables a feature that tags partitions so that only the indexes that need to be re-built during incremental loads are executed. The latter uses ODI parallel process so that Indexes can be built using multiple session (faster than and in addition to DB parallel).
The OBIA 11.1.1.8.1 is available for download from:
Oracle Technology Network (OTN) or Oracle Software Delivery Cloud
Find out more about BI Planning and Assessment or Utilizing Oracle Business Intelligence with Oracle E-Business Suite by selecting the links.
If you have additional questions about OBIA or Oracle Business Intelligence. Please contact me at sgoldsmith@biztech.com or by phone (610) 592-0600.