The Oracle Cloud Financials application has been available for a little over three years. Oracle Cloud Financials is largely built on the strong and sturdy bones of Oracle E-Business Suite enhanced with the pre-built and integrated power of Oracle Essbase. Oracle Essbase is an analytical modeling software that provides a powerful environment for financial reporting, analysis, and business intelligence. Combining the power of both products allows users to easily perform on the fly ad-hoc queries.
For many Oracle E-Business Suite users (EBS), the move to Oracle Cloud Finanicals is quick and seamless. Recent changes made to the Oracle Cloud Financials user interface (UI) and reporting capabilities allows for quicker access to information, greatly enhanced the overall user experience.
Oracle Essbase Allocation and Calculation Engine
First off, let's review, generally, what an allocation is and how it should be used. Allocations are defined as noun. An invoice coded to multiple cost centers in accounts payable is not an allocation. That is a direct charge. However, and invoice coded to a single cost center for say company health benefits that should be shared among many cost centers based on headcount or payroll dollars by cost center, that would be an allocation.
In Cloud Financials, the Allocation Manager replaces MassAllocation and recurring journal formulas to provide a solution that improves usability and performance. The Allocation Manager provides an allocation wizard that is easy to understand, and formula components that provide equivalent functionality to recurring journal formulas with the advantages of Oracle Essbase. The Allocation Manager also provides rule set functionality that allows users to group different rules and generate allocations in an equivalent manner as Auto Allocations in Oracle EBS. The Allocation Manager is a powerful tool that leverages Oracle Essbase; and provides flexibility, automation, intelligence, and control in distributing costs and revenues across the enterprise.[1] So while in the Cloud there is a Wizard Based Allocations tool which does look different from EBS, however, the basic are all exactly the same.
[1] Transitioning from Oracle E-Business Suite to Fusion Applications - Allocation Manager, An Oracle Whitepaper 2011
General Process Flow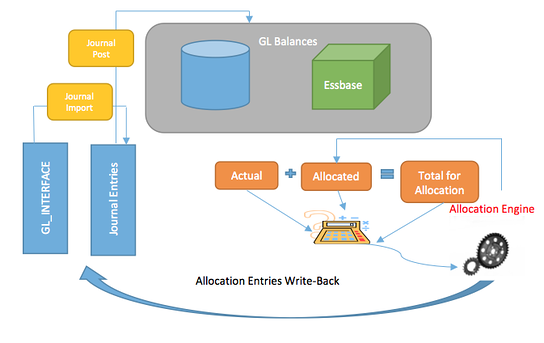 Balances are stored in cubes by dimensions. Example dimensions include the following:
Accounting Periods
Ledgers and Ledger Sets
Dimensions per Chart of Account Segment
Scenario (Actual, Allocated, Total for Allocations, Budget)
Balance Amount (Beginning Balance, Period Activity, Ending Balance)
Amount Type (PTD, QTD, YTD)
Currency
Currency Type
Allocation Rules

Allocation Rules consist of several main components. The first, and perhaps most important of these is the Point of View or POV. The point of view contains those dimensions that will remain consistent throughout the entire allocation, thus allowing the user to enter them only once rather then enter them for each step in the allocation. For example, if you allocation is only going to look at Ledger 1 and Company 100, you can set those values in the POV at the start and end of the allocation and so, only have to enter them once.

1. Enter your POV


Note: You can also enter variable values in your POV or Allocations. Variables are members, such as period or amount type, which can be selected at run time.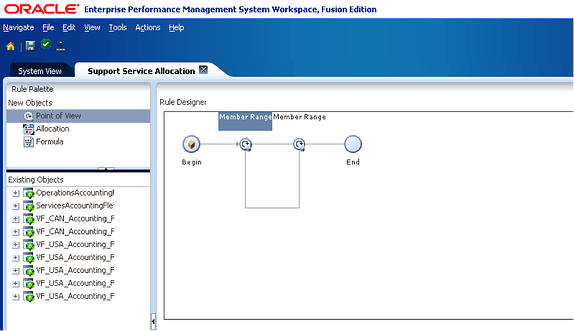 2. Enter your allocations rule.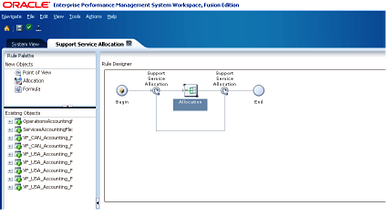 Allocation rules consist of the following components
Source - The source defines the location of the pool balance
Allocation Range - The allocation range defines the range of values on which to allocate. This is used for the basis and target by default. These values must be parent values
Target – The Target can be a new account, cost center, etc.

This is where you want the values to go in the allocation
Offset – Account, cost center, etc. required to generate a balanced journal
Basis – this will serve as the method on which to base the allocation.

Total Salary or Headcount across cost centers for example.
Once finished, the Wizard will prompt you to save the allocation. Once the rule is saved, the user may validate and deploy the rule, making it available for use.
Allocations in the cloud are new and different from those in Oracle E-Business Suite, but many of the concepts are exactly the same. So, put your trepidation aside and start allocating!