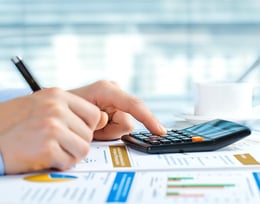 If your company is like most small or medium sized businesses, you probably began and continue to manage finances with accounting software like QuickBooks, Zoho Weave or Freshbooks. While these products can be useful for very small organizations with simple operating procedures and accounting requirements, they can severely hamper the productivity and efficiency of growing companies with more complex requirements.
Although, there is no singular answer to how large a company should be before it will out grow an accounting system such as QuickBooks, there are major signs that can indicate if the current accounting software is burdening staff and ultimately hindering the completion of critical financial processes.
Included below are four signs that you can use to gauge your readiness to for the adoption of a robust accounting solution.
Spreadsheets are you go-to tool



If your primary accounting and business analysis tool is a spreadsheet, it is major red flag that you are not getting what you need from your current solution. While familiar, spreadsheets are notorious for being error prone and can cause major financial data i

nconsistences

. More robust financial programs will allow calculations to be performed within the system enabling you and your team to edit one version of the truth.
Mundane and redundant tasks consume your day

If the limited functionality of your accounting software prevent you from supporting multiple tax rates, currencies, and etc., it is time to reevaluate your approach.
The information you need isn't readily available

Most companies using accounting applications such as QuickBooks tend to notice performance problems when the total number of transactions exceeds 32,000. If you notice a decline in processing speeds, including a delay in the solution's menus and reporting functions, it is a major sign that you've outgrown your solution.
Protecting data and preforming an audit trail is next to impossible

Manual data entry leaves your team questioning when, why, who was responsible for the last entry was written. If you are unable to restrict access to confidential or sensitive portions of your data, such as proprietary data or customer credit card information you could potential put your company at risk. Growing companies need a double-entry accounting system that allows them to comply with government regulations, industry standards, and corporate quality initiatives.
If you are experiencing any of these issues it is time to reconsider a different approach. A new financial system doesn't have to be complicated or expensive, and the transition process can be much faster and easier than you'd expect. The first step is to assess your requirements and evaluate your options. Learn how to succeed with a modern enterprise class Enterprise Resource Planning Platform (ERP) delivered securely in the cloud. The time to act is now.