Successful supply chain management starts with efficient supply chain planning. The scope of this discussion pertains to one section of the Value Chain that I often refer to as, "inside the four walls of the Supply Chain". It will guide you through both planning and scheduling of supply and demand while utilizing Oracle E-Business Suite MRP to achieve efficient supply chain planning.

Strategic Initiatives
There are a few key strategic initiatives you can take on to improve your supply chain performance. Key strategic initiatives can be changed concurrently while focusing on more tactical procedures. Initiatives include product rationalization, service level commitment procedures, and demand planning. Changes or improvements made in all three key areas of these business strategies strengthen supply chain planning and performance overtime. A quote that I often use to describe this is "The more time spent on demand planning the better the Supply Chain."
Using EBS during Business Planning Cycle
At a more tactical level, using the standard Oracle E-Business Suite (EBS) functionality the following Business Planning Cycle can be instituted.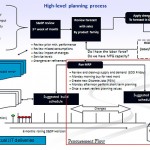 Deploying an EBS process module has helped companies using EBS reach the following goals:
Increase products and not increase headcount in Operations.
Increase Service levels
Reduce Inventory levels
Reduce non-value added replenishment tasks.
Here are the basics to achieve the procurement portion of the flowchart shown in the lower right-hand corner of the Planning Process flowchart.

MRP Steps for Planners
The following steps are for each Planner (buy items only for now) to get basic MRP working.
Set all item planning values

It must have Purchasing List price.
It should have lead times established.
Review Lot sizing rules.

Assign Safety stocks to your items
Enter forecasts for all saleable items that will be consumed by actual sales orders.Use planning bills and percentage of popularity for configurable items.
Create Sourcing rules and assignments

I need strategy for common parts.
It should use planner and buyer code to stratify parts but can use suppliers to get started.

Set Planner workbench preferences and folders
Learn basic navigation in Planning Workbench
Look at Planned Orders grouped by Suggested Supplier and auto-create Purchase Orders.
Planning and Scheduling Creed
There are many testimonials that prove just by using this flow, Planners/Buyers can handle more items; inventory levels can be lowered, and customer service levels improved.
In addition to using the flow in the "High-Level Planning Process" diagram, I would also suggest that Planners/Buyers also adopt the following Creeds.