As the responsibilities of Sales, Marketing, and Service departments grow to include monitoring what goes on in the social media space, the challenge of "how" intensifies, especially since human resource expenditures are constrained. As a result, the organization's approach to providing better customer service is evolving. One way companies are improving their listening skills is by building connectors into the social media space.
Oracle with its suite of Cloud Applications is paving the way.
world WIDE web
The emphasis is on the aggregating all pertinent, customer-centric information. The key here is focusing not on private conversations or personal information, but open and accessible information. Customers are using the web to communicate their approval and concerns. Organizations, recognizing their responsibility to do so, are finding ways to include this channel as part of the feedback loop.
The "Buzz"
On the Customer Experience Management (CXM) front, Oracle recently purchased RightNow to help manage the social information channel, and it does it very well. RightNow has the ability to listen in on social networks like Facebook and automatically create service tickets. From the Agent Desktop, tickets can be reviewed along side CRM information - this helps paint a complete picture of the customer's history and relationship. Furthermore, companies like Buzzient, Radian, and Vitrue provide mechanisms for managing this supply of information. Buzzient is a front runner providing a very robust connection into both Seibel CRM and Oracle CRM On Demand. With CRM On Demand, Buzzient builds a connection into the Service module allowing for auto ticket creation from Facebook or Twitter. It also leverages key words to track social media trends.
So What?
Something you will hear BizTech refer to often is the health of your information supply chain. Ideally we want the information flow from customers through the organization to be seamlessly integrated with measurable transitions. Ideally we want customer responses and buying behaviors to directly impact product and service improvement and development. To this end we have designed an Integration Appliance that keeps systems in sync. Whether you are integrating Oracle EBS to CRM On Demand, Fusion CRM to RightNow, or SaaS to On Premise - the goal remains the same: Effectively Manage the Customer Experience.

Unfortunately, what we experience is under-utilized, disconnected sources being used in the decision making process. The intermediate solution is to aggregate and compare dissimilar information throughout the lifecycle of a product or service. The result is poor decisions being made and even poorer direction being set.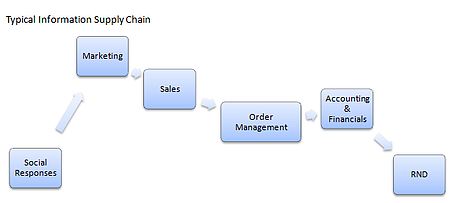 The Solution
Have a plan. BizTech does and has been implementing it for our customers. The objective is to help organizations manage the information supply chain. The tactical steps: address siloed information; integrate disconnected, niche sources; move to a consolidated platform; and implement data quality strategies. With the advent of Oracle Fusion applications, with its Customer Data Management (CDM) module, and its suite of bolt on modules like CRM, HCM, CXM - this goal becomes attainable.