Circa 2005, two managers show up to a meeting, each with a report in hand. The meeting intended to focus on why sales have declined in the Western Region turns into a debate about whose numbers are correct. After an hour, nothing is resolved.
Turn the clock to 2011. The two mangers, now executives with gray hair, again show up to a meeting to discuss why sales have declined in the Western Region. Now with iPads loaded with Oracle Business Intelligence, the conversation is a refreshing change from the 2005 debate about the accuracy of the numbers. Now the executives not only are able to see that sales are declining, but are also able to drill into the data to uncover that manufacturing backlogs from a specific plant are inhibiting sales performance. A quick email to the plant manager begins a dialog on how to resolve the problem.
Is it a fad or is mobile computing here for the long term? Either way, Oracle Business Intelligence on an iPad or iPhone puts information at your fingertips. Not to mention, it is an excellent justification for that new iPad or iPhone you always wanted.
Here are just a few examples of the mobile experience...
[caption id="attachment_243" align="alignnone" width="240" caption="Oracle Business Intelligence on an iPhone"]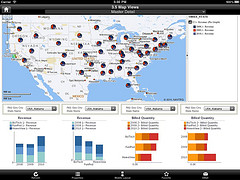 Oracle Business Intelligence on the iPad

[/caption]