Like most software upgrades, generally the newer version would provide some type of backward compatibility. Well, with the recently released Oracle Business Intelligence Enterprise Edition (OBIEE) 11g, you will not have the ability to do so. Due to the major enhancements of the OBIEE toolset, there is no way to seamlessly migrate our metadata from 10g to 11g. The road ahead may be a little gloomy for 10g but fear not, there is still some light down the tunnel. Fortunately, bundled with OBIEE 11g is an upgrade utility called "Oracle Fusion Middleware Upgrade Assistant."
The Upgrade Assistant provides option for RPD and Presentation Catalog upgrades. In Part 1, we will tackle the RPD metadata upgrade. To see how to upgrade your Presentation Catalog metadata, please jump to Part 2 of our OBIEE Metadata Upgrade.
Now to the juicy part -- The Upgrade Assistant utility only has 8 steps and is extremely user-friendly:
1. Upload your 10g RPD onto the Box where you have previously installed OBIEE 11g
2. Now navigate to $OracleBI_HOME/bin and execute the "ua" utility
3. This utility is available in both Windows and Linux
- Check "Upgrade Oracle BI RPD and Presentation Catalog" and click "Next"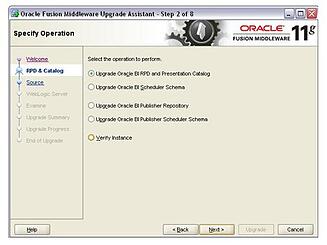 4. Since we are only upgrading our RPD, check "Upgrade Repository (RPD)" on the next screen
5. Provide the Username/Password for Administrator (i.e. Administrator/Administrar
6. Starting OBIEE 11g, there is a new security feature: The RPD now has a password as well!!!! This security is partially to protect the RPD access, but largely to prevent overwriting the RPD on the server itself. Users without RPD password will not be able to push a new or updated copy of RPD to the BI Server. With that in mind, provide RPD password (i.e. SADMIN) and click "Next"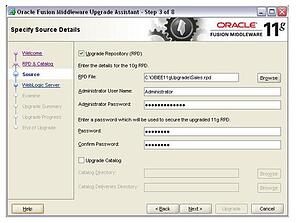 7. In this version, weblogic is bundled with OBIEE, so generally it is installed on the same box, if not, specify the required connection details: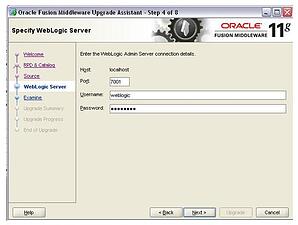 8. Review your upgrade configuration and complete your upgrade process
9. Pat yourself on the back; you have completed the OBIEE 10g to 11g upgrade.
Wait! Don't be too excited though, you are not done yet!
There are some issues with joins in the RPD's physical and logical diagram.
Here's the painful part: In order for you to fully complete this upgrade, all your joins may have to be recreated manually.
Once you have recreated all joins, your RPD is fully upgraded and ready for many years to come.
Enjoy!
Blog Author: Alvin Vu
Alvin is a contributing blog athor for the BI Practice at BizTech