Just about every for profit business organization generates it precious life blood (revenue) from sales, and the current SFA/CRM market is estimated by Gartner to exceed $US 9 Billion in annual spend. However, a 2009 study revealed that only 39% of corporate executives believe their employees have the right tools and authority to solve SFA/CRM related client issues (source: Strativity Group, Inc 2009). So an astounding 61% do not feel they have the right tools in place.
We here at BizTech believe that having the right level of monitoring and measurement by deploying relatively simple sales related key performance indicators can help identify problems and enable corrective action thereby maximizing the value from SFA/CRM investments.
Over the next weeks we will showcase some Sales related KPIs that we feel are simple to measure, and provide high value back to the organization, so let's start with some Top sales related KPIs.
KPI Name: Average sales per customer or transaction.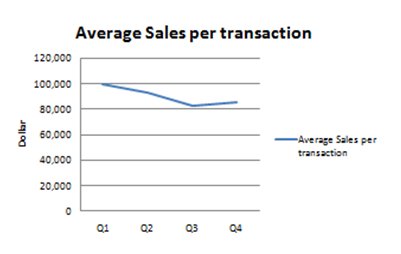 KPI Description: Total sales for a given period divided by the number of customers or transactions for the same period.
Measure Frequency: Monthly or Quarterly is suitable for most organizations
Causes for Variability: If your average sales per transaction was $100K and now it's $85K, it is an alert for your team to investigate if (1) The sales price is being lowered by product marketing, (2) Your sales team is giving away higher discounts due to product quality or competition, (3) Your business is subject to seasonality and now entering a lower sales transaction season, or it could be many other reasons.
Why it's important: Measuring this trend helps you to determine the "Return" on your sales efforts. Understanding what influences this KPI can help maximize your return on each dollar invested in Sales, Marketing, Promotions, and Customer retention initiatives.
What to do next: Ensure your SFA/CRM/ERP system is capturing sales by sales order and sales by customer over time. Seasonal trends are well represented in horizontal line charts. You can contact Lee Tsao (KPI Crusader) at ltsao@biztech.com and I am happy to explore this with you further. Until next time, keep up the KPI crusade!